The Holy Church of
the nativity of the
Virgin Mary
(Genniseos Tis Theotokoy)
Main catholicon church of the historic Monastery of Ierion (Gerion) on the Rallatos estate in Paliki, adjacent to the village of Villatoria, Kefallinia (Kefalonia)
Gerasimos N. Thomas
Civil engineer, graduate of the National Technical University of Athens (NTUA), MSc (NTUA) "Conservation of Historic Monuments", Doctor of Architecture (NTUA), visual artist, graduate of the Athens School of Fine Arts
The surviving remains of the Holy Church of the Nativity of the Virgin Mary (Genniseos tis Theotokou) are those of the catholicon of the historic Monastery of the Elder Priests or Elders (Iereion or Gerion) at Paliki, which is today located within the extensive estate of Rallatos, next to the settlement of Villatoria, Kefallinia. Despite widespread decay and ruin, the remains of the foundations, the walls and most of the carved stone architectural supports of the church can still be discerned on the site, as well as other elements of architectural and archaeological interest. It is a singular monument which is very much worthy of interest from many points of view – historical, archaeological, artistic, scientific, offering rare evidence as a landmark and a reminder of the past, among others, with the potential to shine even more light on the rich ecclesiastical history of the island. The monastery is old, given that references were already being made to it in the 17th century. It has experienced some of the most powerful earthquakes, and it is as such a record of the island's seismic history.
Based on the traces of the ground plan (Fig. 1), it appears that the temple was of composite rectangular design, with axial symmetry, a protruding chancel enclosing the altar, and total dimensions of 19.31 m x 14.04 m and a surface area of 300 square meters. The church followed the well-established type of three-aisled basilica, and was probably timber-roofed. The three aisles can today be discerned on the ground, due to in situ traces of the large stone pillars and their bases.
The main structural materials of the church are: a) local greyish-white, easily carved, shell marl limestone, mined from the nearby quarries of Paliki, b) lime mortar and plaster work, c) iron connectors for loadbearing elements (doorways). Obviously there were wooden elements, but these have not survived.
The surviving remains are insufficient evidence for a safe representation of the original form, except along rough lines. Based on this evidence and with the assistance of a comparative study of similar churches (chronologically and typologically equivalent, found in Kefallinia, Zakynthos and Lefkada), a hypothetical perspective representation of the temple has been attempted and is presented here (Fig. 2).
The monument has suffered serious structural damage. However, recently (in 2018) a conservation and restoration study prepared by an interdisciplinary scientific team has been submitted to the Ministry of Culture and is awaiting approval (G. Thomas, M. E. Niakarou, 'Preservation of Stonework').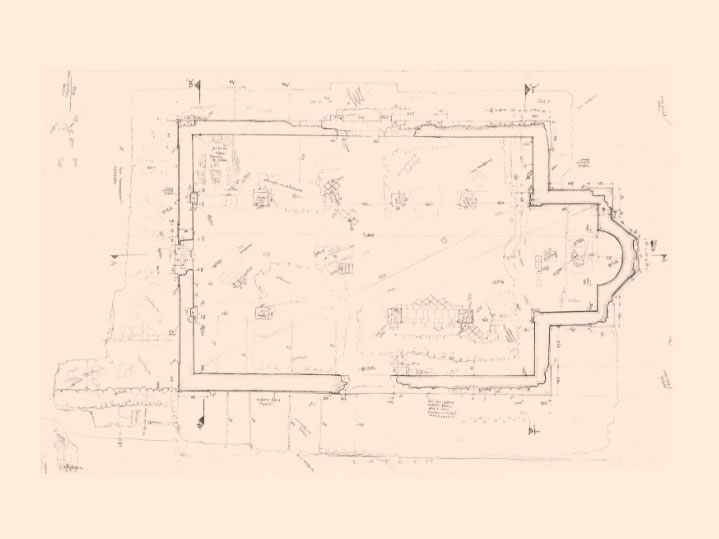 Image 1
Monument survey plan, drawn up on-site. Floor plan, Scale: 1/50. G. Thomas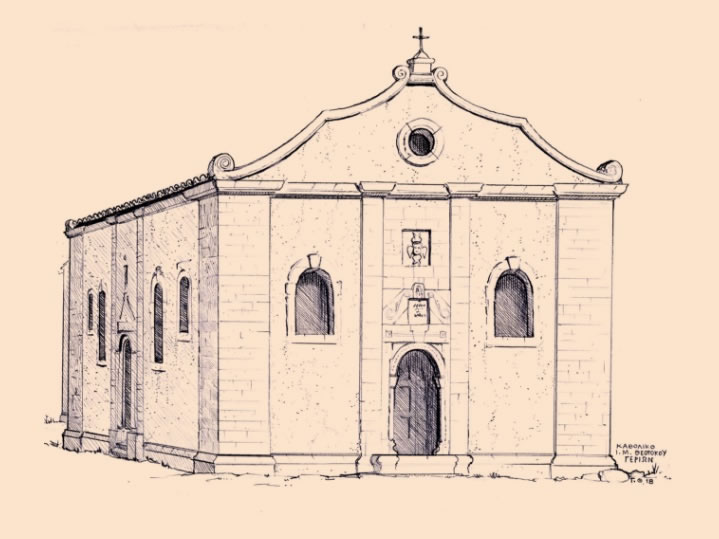 Image 2
Perspective drawing of a hypothetical representation of the original form of the church (G. Thomas 2018). View from the northwest